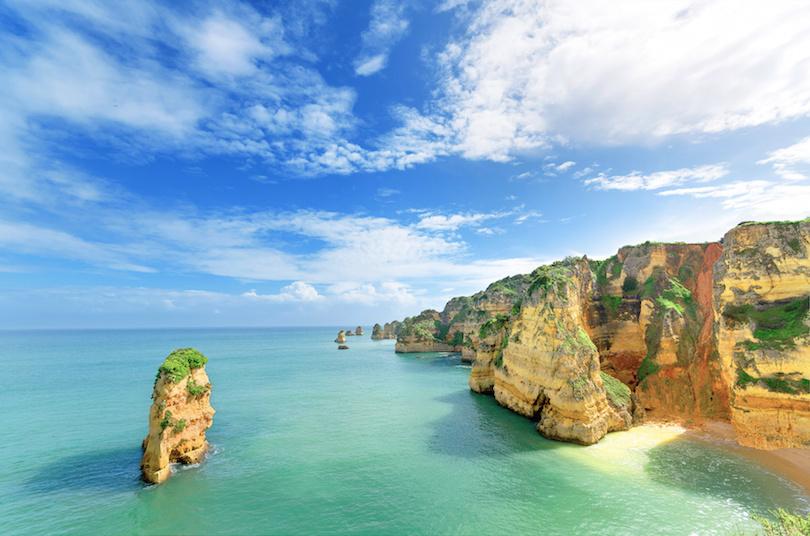 Planning to visit a small country with a large number of tourists? If yes then Portugal is the right place for you. The country has a lot of surprises for tourists, ranging from cosmopolitan cities and, out of the way towns and villages. The beaches, resorts, and picturesque national parks along with a friendly nation attract millions of travelers each year. 
Portugal shares a border with Spain, and it offers a spectacular coastline with the Atlantic Ocean. The location of Portugal is in Western Europe. The interior of this country is wide, full of rolling plains, broad rivers, and deep valleys. 
The country is also rich in history and offers a wide collection of historic buildings and monuments. Most of these historic sites are remarked as the World Heritage Sites by UNESCO.
If you are planning to travel to this amazing place then this travel guide is going to be very helpful for you.
In this guide, you will get a shortlist of some of the best places to travel in Portugal. So, let's get started.
Lisbon
Lisbon is the capital city of Portugal and it is among the most captivating cities of Portugal. This Atlantic port is located on the banks of River Tagus where it showcases a number of hills that highlight the beautiful waterfront locations.
You can also explore the historic sites and jewels of this city in order to enjoy a bumping ride towards the past.
Some of the oldest and historical parts of Lisbon include the Castelo de Sao Jorge and the Alfama, these places are also considered as the top tourist attractions here. 
The next thing to do in Lisbon is to visit the world-class museums so that you can have a better idea regarding the cultural values of this country.
Top tourist attractions here include Parque Das Nacoes (with its crowded areas such as the Oceanario), Belem, Mosteiro dos Jeronimos and Torre de Belem. 
If you are planning for a trip to Portugal then make sure to visit these places as well.
Sintra
Sintra is another great travel destination located in Portugal where you can explore the beautiful landscapes that highlight the culture of this place along with some historic monuments and old ruins that make this town a magical blend of awesomeness. The town is also well known because of the famous Palacio Nacional park.
Another famous tourist attraction here is the Palacio da Pena that was used as a summer retreat back in the 19th century by the Portuguese royal family. The whole town is guarded by beautiful hills and you need a fast pair of legs with some extra stamina to examine each one from them. These hills also serve as the highest points of Sintra to experience some breathtaking views across the Atlantic coastline and the Cascais as well.
Some historical and ancient towns here are Castelo dos Mouros. In Castelo dos Mouros you will find awesome historical sites to make your day.